To look at Scott Peterson before Christmas Eve in 2002 was to see a young, handsome family man, a 30-year-old fertilizer salesman living in Modesto, Calif., who was about to become a first-time dad.
To look at him at almost any time since is to see one thing: a murderer.
Scott was resentenced to life in prison without the possibility of parole on Dec. 8, 2021, in the deaths of his wife, Laci Peterson, and their unborn son, the culmination of a 15-year effort to get him off of death row.
But the 50-year-old lost his bid for a new trial, a judge ruling Dec. 20—almost 20 years to the day after Laci disappeared—that though a juror had provided answers to a court questionnaire that were "false in certain respects," she was not "motivated by pre-existing or improper bias" and her presence on the jury didn't prevent Scott from getting a fair trial, per documents obtained by NBC Bay Area.
Scott can appeal the ruling. His defense team has posited that Laci was killed when she walked in on burglars, after her husband had left the house for the day.
Scott's insistence that he's innocent has helped prevent Laci's murder from being relegated to the true crime backburner, but considering the grisly, scandalous story told at trial, the case would have been a hard one to forget under any circumstances.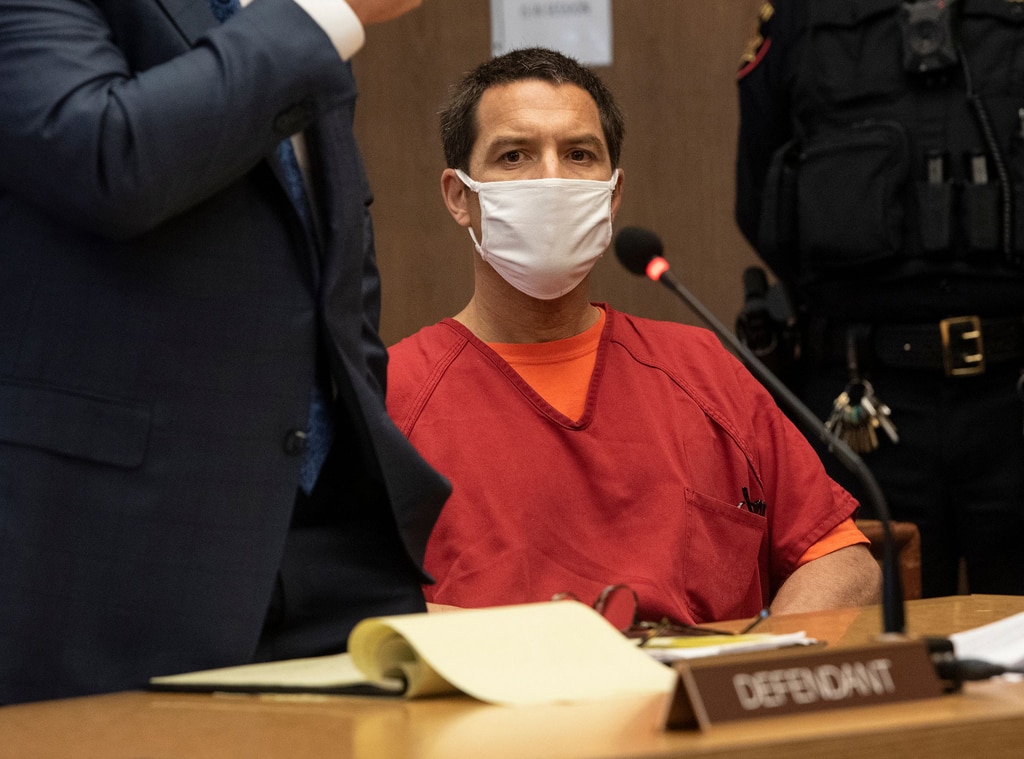 "I couldn't feel my feet on the floor. I couldn't feel the chair I was sitting in. My vision was even a little blurry," Scott, recalling the moment he was convicted, was heard saying on an audio recording in the 2017 A&E docuseries The Murder of Laci Peterson. "And I just had this weird sensation that I was falling forward—and forward and down and there was going to be no end to this falling forward and down, like there was no floor to land on.
"I was staggered by it. I had no idea it was coming."
What happened to Laci Peterson?
It was Laci's stepfather who first reported her missing after she vanished on Dec. 24, 2002, amid the hustle and bustle of Christmas preparations. Scott told police that his 27-year-old wife, who was 8 months pregnant with a boy they'd already named Conner, had been planning on walking their golden retriever at a nearby park when he last saw her, before he left to go fishing at the Berkeley Marina. He had left her a voicemail later that day, telling her he was on his way home.
Laci's purse was at their house, and so was the dog.
By Dec. 28, family and friends were offering a $125,000 reward for Laci's safe return, missing person fliers papered the town, the FBI was called in to assist local authorities and the search expanded to comb 4,000 acres of wetlands along the Stanislaus, Tuolumne and San Joaquin rivers. On New Year's Eve more than 1,000 people attended a candlelight vigil.
"Whoever has her could have some compassion," Brent Rocha, Laci's brother, told reporters. "She's a human being. She's pregnant. She needs to take care of her baby. She's a wife, a daughter, a sister. Please return her."
Brent would later tell Scott in court, after his brother-in-law was sentenced to death, that he had purchased a gun with a mind to kill Scott himself but ultimately decided to let fate have its way with him.
What did Scott Peterson do after wife Laci disappeared?
Scott theoretically should have been distraughtly pleading for any information about his wife's disappearance, tirelessly combing the area for her with the police and countless volunteers. But multiple accounts painted him as quiet, polite and acting oddly removed from the proceedings. "She will be giving birth real soon," he reportedly told investigators at the time. "We need to bring them home and I think that's the best way we can do it all."
Reflecting on how they built a case against Scott, Modesto Police Detective Jon Buehler told People in 2005, "We've been doing homicides for a while. When you compare Scott's demeanor with other people we've dealt with, he didn't even register on the scale as far as seeming concerned. And when [fellow detective Al Brocchini] played the tape of that lame-o message that Scott left on Laci's phone—'Hey, beautiful, I'm on my way back from fishing. Pick up the basket at Vella Farms. I love you, sweetie,' or words to that effect—it just seemed so insincere and false, like he was making this call to make us think he was in love with her.
"But anybody who has been married for five years knows there aren't too many people who talk to their spouse like that after that amount of time. It didn't mean that he did it; it just meant we needed to work him a little bit closer and clear him."
"That's the way he's been," Scott's half-sister Anne Bird (who was promoting a book she had written about the case) told CBS News' Julie Chen after Scott was sentenced to death. "Even during the search for Laci. He was completely emotionless, could have cared less. And that's been really hard to deal with. He's a sociopath, and a sociopath does not have a conscience, which is a really hard fact to understand."
After Scott was re-sentenced last year, Bird said during a public Zoom call with attorney Gloria Allred, "While I do not agree with the death penalty, justice has been served and just punishment is in place and should stand. Scott should remain in prison for the rest of his life and there is no excuse for murder. I stand by my comments, both past and present. I hope that someday, all who are attached to this heartbreaking and horrific history can find some peace."
How long were Scott and Laci Peterson married?
Scott and Laci met in 1995 when they were students at Cal Poly San Luis Obispo. She first saw him while eating at the restaurant where he was working as a waiter and passed him her phone number. They married on Aug. 9, 1997. They ran a hamburger joint for a couple of years before selling the place and moving north to Laci's hometown of Modesto, where they planned to start a family.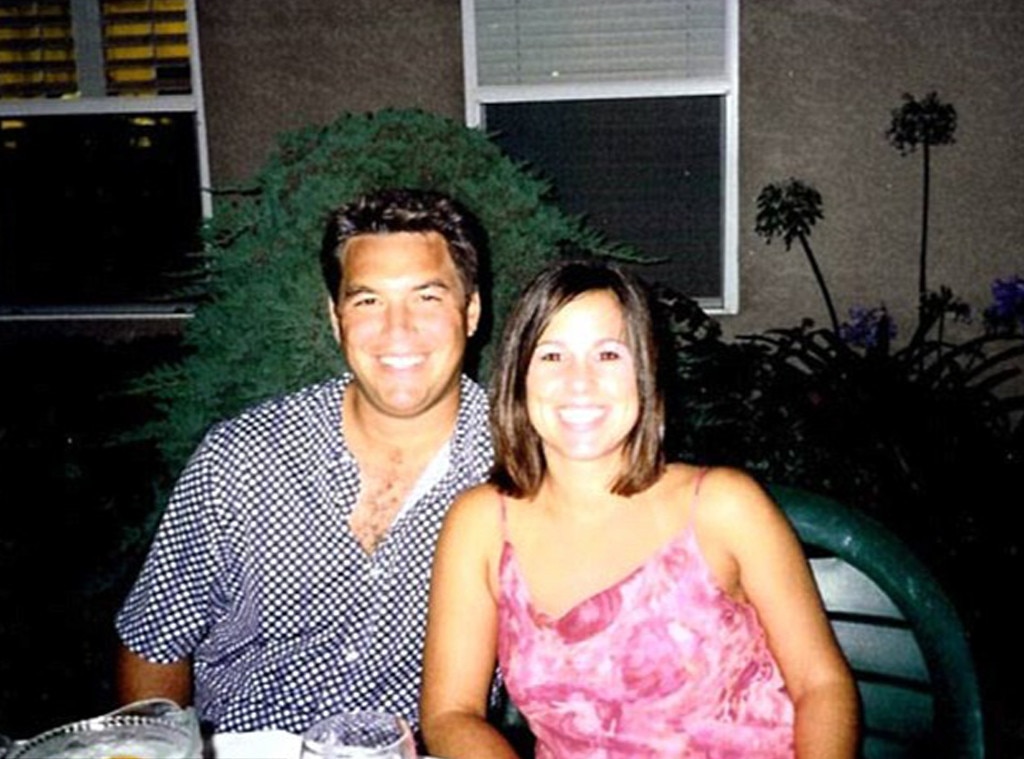 Within two weeks of Laci's disappearance came the allegations that Scott had been having an affair, and that he had taken out a $250,000 life insurance policy on his wife. He called the reports "a bunch of lies," explaining that he and Laci each carried the same amount of life insurance.
When was Scott Peterson's affair with Amber Frey exposed?
Then, on Jan. 24, 2003, 27-year-old single mom Amber Frey came forward to say she'd recently had an affair Scott—and that when they met on Nov. 20, 2002, he told her he was unmarried. Days before Laci disappeared, she said, he told her he was actually a widower. Frey said she contacted police on Dec. 30 after she saw her lover on the news.
With every network angling for a piece of the story, Scott picked ABC News' Diane Sawyer to sit down with, tearfully admitting that the affair had been "inappropriate," but that he had confessed to Laci, they had put it behind them and he had nothing to do with her disappearance. Scott's family joined him for the second half of Good Morning America's two-part exclusive. (Telling Sawyer that Frey was his only indiscretion would come back to haunt him, as would his claim that he voluntarily told police about Frey.)
Another candlelight vigil was held on Feb. 10, 2003—Laci's due date—in the park where she was supposed to have gone to walk the dog.
Laci Peterson's disappearance turns into a murder investigation
On March 5, 2003, police announced that they were treating the case as a homicide investigation.
A little more than a month later, on April 13, 2003, the remains of a male fetus were found at the shore of San Francisco Bay in south Richmond. The next day, a woman walking her dog came across a portion of a woman's body lodged in the rocks at Point Isabel Regional Shoreline, about a mile south of where the unborn baby surfaced.
On April 18, the same day California Attorney General Bill Lockyer confirmed that the bodies belonged to Laci and Conner, Scott was arrested and charged with two counts of murder. He was picked up in Southern California about 30 miles away from the Mexican border, sporting a goatee, his dark hair dyed reddish-blond and with $10,000 cash in his possession.
And though he certainly hadn't been free of suspicion before, overnight Scott Peterson became a downright pariah.
He pleaded not guilty to two counts of capital murder and hired celebrity attorney Mark Geragos, famous for representing high-profile clients such as Michael Jackson and Winona Ryder.
Geragos publicly called for witnesses who could help prove his client's innocence to come forward. Later the attorney floated the possibility that Laci had been abducted by a satanic cult and he talked about a female witness who supposedly had important information about the case. Cult or not, "it's clear she was abducted—that's the only thing that makes sense," Geragos told Vanity Fair that August. "It's only a matter of time forensically and we'll find out who did it."
The Laci Peterson murder case sparks a media frenzy
Scott's murder trial didn't start until 2004, leaving plenty of time for the story around Laci's death to grow ever more unsettling, with the resurgent tabloids and cable news—knowing exactly what readers and viewers wanted thanks to the days of wall-to-wall coverage of the Menendez brothers and O.J. Simpson's murder trial, as well as the death of JonBenét Ramsey and the 2001 disappearance of Chandra Levy (who was also from Modesto)—moving in for the kill.
Once he was arrested, Scott was pretty much immediately cast as the cold-blooded killer—a picture at odds with what most friends and family had thought of him.
He and Laci "both seemed extremely excited, as we were," Greg Reed, a friend of the couple who had just welcomed his first child with wife Kristen Reed, told ABC News after Scott's arrest. "We were both having our first babies at the same time or quite close to the same time. We were both planning on basically raising them together since we both lived here in Modesto and in the same neighborhood."
"I just think, what a waste," prosecution witness Karen Servas, a neighbor of the Petersons who spent an awkward Christmas dinner with Scott and his parents after Laci went missing, told the Modesto Bee in 2007. "Why would you do that? Why kill your wife and your child? If you're that unhappy, I mean, I got divorced, it wasn't that difficult."
Scott's mother, Jackie Peterson, lamented to TIME magazine, "You have a district attorney calling this a slam-dunk before there's even an arraignment. I'm feeling like I'm living in Nazi Germany or the Soviet Union."
The gruesome details would pile up before trial: MSNBC reported in May 2003 on leaked autopsy findings that suggested Conner may have been cut from Laci's body before mother and son were disposed of—a notion that actually gave temporary credence to Geragos' cult theory. Within 24 hours the cable and broadcast news shows were citing experts and sources who downplayed the initial take, saying that the fetus had probably still been in Laci's womb and was expelled by a progression of natural activity after she died.
The National Enquirer, which first reported the existence of Amber Frey, published a copy of a Christmas card she had sent out featuring a picture of her and Scott together. Sherina Vincent, a former friend of Frey's, sold photos she had taken of Amber and Scott at a Christmas party to People, and then sued the magazine for not cropping her out of a picture on the wall behind the duo after agreeing to remove Vincent's image. (The publication denied wrongdoing and promised to defend itself "vigorously.") Per Vanity Fair, the Enquirer also reported in May 2003 that Frey—who had hired Allred as her legal counsel—had worn a wire for the prosecution while talking to Scott before his arrest, and that he told her he didn't kill Laci but knew who did.
In June 2003, a judge issued a broad gag order to cork the flood of leaks and rumors.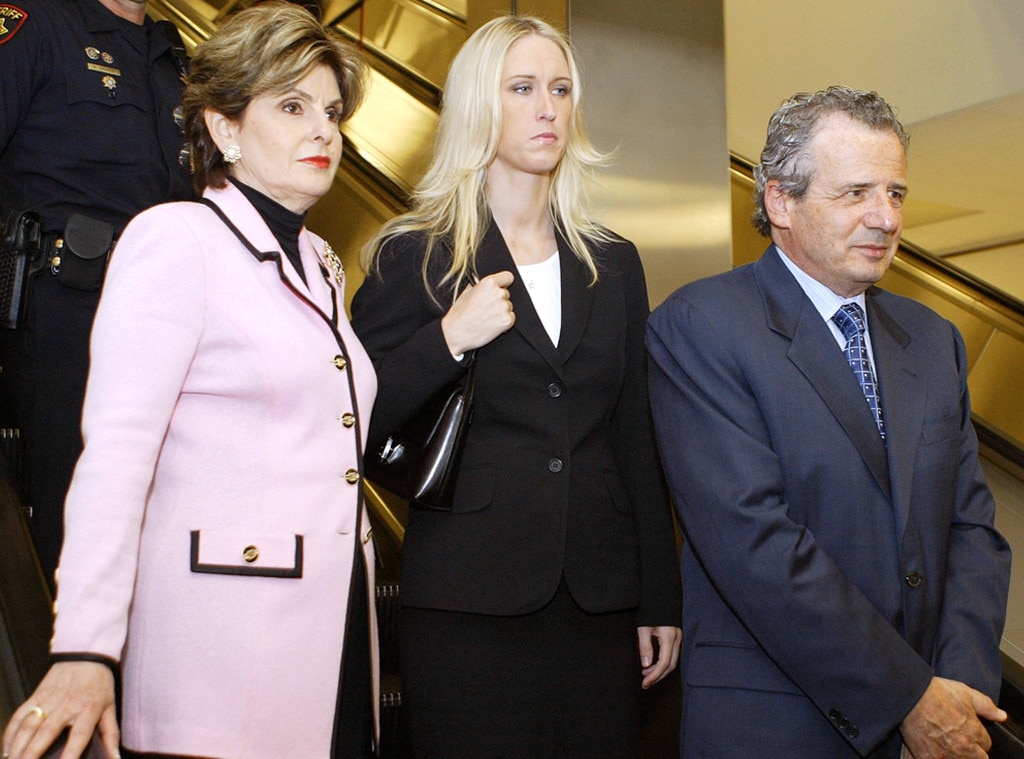 "I even get requests to interview the inmate who cuts [Scott's] hair," a Stanislaus Sheriff's Department spokesperson told Vanity Fair for an August 2003 article that was more about the media frenzy than the murder itself.
"Every time we put [the story] on, the ratings spike," Fox News' Bill O'Reilly also told VF. "It's the only thing keeping Larry King on the air. We do Laci Peterson every 15 minutes and see the numbers go up. It's a story that resonates with women particularly."
According to the Washington Post, by June 30, 2003, the Peterson case had been featured 79 times on Greta Van Susteren's Fox News show, 40 times on MSNBC's The Abrams Report, 38 times on Fox's Hannity & Colmes, 38 times on MSNBC's Countdown, 37 times on Fox's top-rated O'Reilly Factor, 34 times on CNN's Larry King Live and 20 times on MSNBC's Hardball.
"They appeared to be a young married couple with their whole future ahead of them, and she disappeared. That got people hooked," MaryLynn Ryan, managing editor of CNN/US at the time, told the paper, rejecting the perception that the network was milking the case. "People have become invested in knowing the outcome of what happened to her."
What was Scott Peterson's life like on death row?
California hasn't executed anyone since 2006 and while voters in 2018 rejected an opportunity to abolish the death penalty in the state, Gov. Gavin Newsom declared a moratorium on executions when he took office.
For 15 years at San Quentin, Scott's home was a 41-square-foot cell, minus a a reported five hours a day for exercise and other recreation, such as playing basketball or board games. Prison spokesman Samuel Robinson told Fox News in 2012 that Scott got along with other inmates and staff and had never been disciplined for "egregious behavior." He didn't take educational courses and had not been assigned to any work duties.
Similar to Erik and Lyle Menendez, both sentenced to life in prison for killing their parents, Peterson attracted his fair share of female fans. Prison spokesman Vernell Crittendon told CNN that, within a day of his arrival on death row, two women called San Quentin asking for their newest inmate's hand in marriage. He acquired the nickname "Scotty Too Hotty" for all the attention he received from the opposite sex, but Robinson said in 2012 that the number of letters had dwindled by then.
Asked if he felt Scott was at risk of being attacked in prison, Crittendon said, "I don't believe that there will be many of them that will harbor any ill will because of his commitment offense, particularly those men on death row. As we know, most of them have been involved with the murdering of children and women."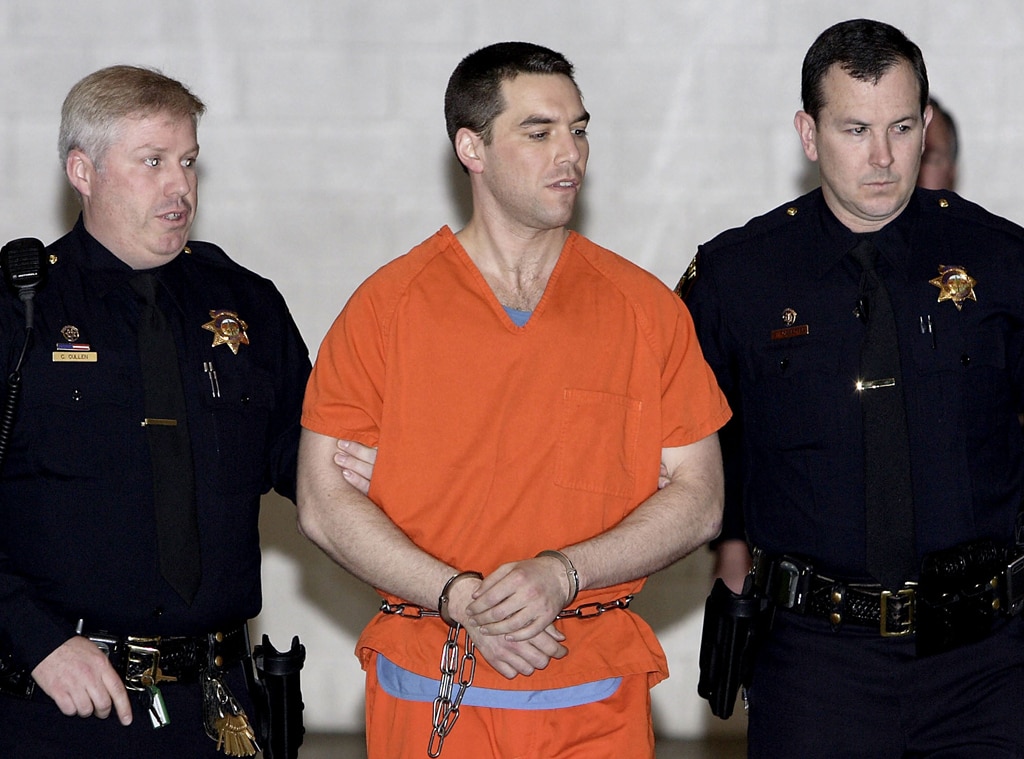 The journey to free Scott Peterson gets underway
In 2012, Scott's case was appealed to the California Supreme Court in accordance with a state law that guarantees every death row inmate an automatic appeal. His new team of lawyers argued that the judge, who had since died, had made several missteps and that the evidence against him was "anything but overwhelming." The California Attorney General's office filed their response in 2015; oral arguments took place five years later.
"There is absolutely no doubt in my mind that justice was served," Laci's mother, Sharon Rocha, told the Modesto Bee in 2016. "Scott Peterson is guilty."
Scott's defenders disagreed. At a Q&A following a screening of Trial by Fury: The People v. Scott Peterson at the 2016 American Documentary Film Festival, Geragos called the case a "media lynching."
"Scott is clearly…not guilty," the attorney declared. "Scott is innocent. I will believe that till the day I die. What happened in this case was one of the worst abominations of the criminal justice system I ever experienced."
The film's directors, Shareen Anderson and Elena Konstantinou, made it clear they felt Scott at least deserved a new trial. They had written to him in prison and he put them in touch with people from the defense's side; they said they reached out but ultimately made the movie without anyone from the prosecution, Modesto police or members of the jury that found him guilty.
John Marks, the producer of A&E's The Murder of Laci Peterson, which was made with the cooperation of members of Scott's family, insisted the series wasn't an attempt to argue the possibility of Scott's innocence.
"I just want people to say, 'What actually happened here?" he says. Amy Savitsky, A&E Senior Vice President of Development and Programming, told People the show "really does give this kind of fascinating full picture, not just of the case itself but set against the backdrop of what was happening in our culture at the time." And no, she reiterated, they were not trying to exonerate Peterson.
Detectives told NBC News for The Laci Peterson Story: A Dateline Investigation, which aired in April 2017, that, despite there not being DNA or other forensics to explicitly tie Scott to the murder, circumstantial evidence plainly pointed to his guilt.
"He was just calm, like he always was, after they put the handcuffs on him," Detective Buehler told People about Peterson's arrest. "When we got him back to the offices, and he had his pool-dyed hair or whatever he said it was, we sat him down. He was not angry. He didn't ask a whole bunch of questions. The only thing he said was, 'Is that my wife and son?' At that point it was sort of like, 'Come on, Scott.' So I said, 'You know the answer to that question.' Then he did fake sniffles."
Where is Scott Peterson now?
In early 2021, Scott's lawyers presented their case of juror misconduct, having alleged in their habeas corpus appeal that a juror named Richelle Nice purposely didn't disclose a personal experience that could have affected her view of the case to ensure she made it onto the panel.
Scott's attorney, Pat Harris, told Today's Savannah Guthrie, "We're cautiously optimistic. I think there's a great deal of evidence that the juror did commit misconduct, essentially when she filled out the juror form, the juror questionnaire, and also when she was questioned in court, she did not tell the truth about incidents in her own life when she was a victim of domestic violence while she was pregnant. I think that was obviously a very important thing for her, part of her life, and if she had been honest about it, she would not have been selected for the jury."
Nice denied the accusations that she was biased, telling the Modesto Bee in 2017, "When I filled out that questionnaire, my situation never came into my mind because it was not similar at all."
Harris also told Guthrie that, should they get that new trial, they'd be presenting evidence that exonerates Scott. "We believe we have evidence that the people who actually were involved are people who have a very violent criminal history, and we believe we can prove that that is much more likely as to what happened than rather than Scott having killed his wife."
Laci's family, however, hadn't heard anything in the nearly two decades since her death that changed their minds about who was responsible.
Scott, who's now locked up at Mule Creek State Prison in Ione, Calif., wasn't permitted to make a statement in court when he was sentenced to life a year ago, but Laci's mother was.
Seeing him in person for the first time since he was convicted of killing her daughter, Sharon told her former son-in-law, "Laci's dead, Scott, because she loved you. She trusted you and she believed in you, and you betrayed her and your son and everybody else. Everybody here wanted her. But you chose to get rid of her. You didn't want a baby nor the responsibility of being a father.
"You were afraid of being looked on as a failure. No matter what happens in the future, there are two things that will never change: Laci and Conner will always be dead and you will always be their murderer."
(Originally published Aug. 15, 2017, at 6 a.m. PT)