Are you thinking about going vegan? While there are plenty of benefits to a plant-based diet, it can be tough to find all the healthy ingredients you need for a complete meal in one place. Luckily, there are now vegan meal subscription boxes available that deliver balanced, meatless dishes straight to your doorstep. These subscription boxes have a creative, healthy edge compared to traditional meal delivery brands like HelloFresh and Blue Apron. So, if you're looking for a convenient and healthy way to go vegan, a meal subscription box might be just what you need!
If you're looking for a vegan meal delivery service, it's important to choose the right one. To help you out, we spoke with registered dietitian Taylor Wolfram to find the best subscription boxes for vegan eaters. "When it comes to nutrition, I look for balance, energy, and protein to ensure that the meals will be satisfying and filling," she explains. After all, if you're going to spend extra money on a subscription box, you want to make sure that the meals are both appealing and filling. So, without further ado, here are 10 vegan meal delivery services that are worth checking out!
CookUnity stands out because it's designed and created by professional chefs who place a high priority on using locally sourced, high-quality ingredients. Even though it's not a strictly vegan brand, its plant-based meal options are incredibly diverse and delicious. You can expect to find a range of tasty dishes, such as black bean enchiladas, cauliflower tikka masala, and roasted vegetable lasagna.
One unique aspect of this meal delivery service is that the meals are crafted by local chefs. However, there's not a lot of room for customization when it comes to individual orders. When you sign up for the service, you can select your dietary preferences and specify any allergens that you need to avoid. While you can edit these preferences between orders, you won't have the option to customize each meal by adding or removing specific ingredients.
CookUnity's subscription plans are quite flexible, with the ability to pause or cancel your subscription at any time. You can access the service through its website or mobile app, which allows you to easily manage your subscription while on-the-go.
Purple Carrot has been providing tasty and inventive meal kits and prepared meals since 2014. Their service is available across the nation, and you can even find their products at Target stores. What we appreciate most about Purple Carrot is the wide range of meal plans available, which includes options like high-protein meals, quick and easy meals, and chef's choice meals. Each week, customers can choose from an assortment of recipes that are designed by the company's team of chefs. These recipes feature a variety of different cuisines and flavors, so you'll never get bored!
If you're not a great cook but want to learn, we recommend trying Purple Carrot's low-prep and foolproof meal kits. These kits come with pre-portioned ingredients and easy-to-follow recipes, making cooking a breeze. Plus, Purple Carrot works closely with nutritionists to ensure that each meal is nutritionally balanced, so you can feel good about what you're eating.
Hungryroot is a versatile service that offers meal kits, prepared meals, and groceries all in one place. You can choose to order just one of these options or mix and match to fit your needs.
If you're new to Hungryroot, you'll start by taking an online quiz that asks about your food preferences, dietary restrictions, and serving needs. This allows the service to offer you even more customized food options. In addition to meal kits and prepared meals, Hungryroot also sells fresh produce, plant-based proteins, and snacks.
The meal kits from Hungryroot come with pre-portioned ingredients and recipes that are straightforward and easy to follow, according to reviewers. This takes the guesswork out of cooking and makes mealtime a breeze.
If you're looking for something even more convenient than meal kits, Hungryroot offers fully prepared meals that can be heated up in just a few minutes.
One of the best things about these meals is that they're free from highly refined oils and additives like artificial sweeteners, high-fructose corn syrup, artificial colors, and preservatives. This means you can enjoy your meal without any unnecessary or unhealthy ingredients.
Splendid Spoon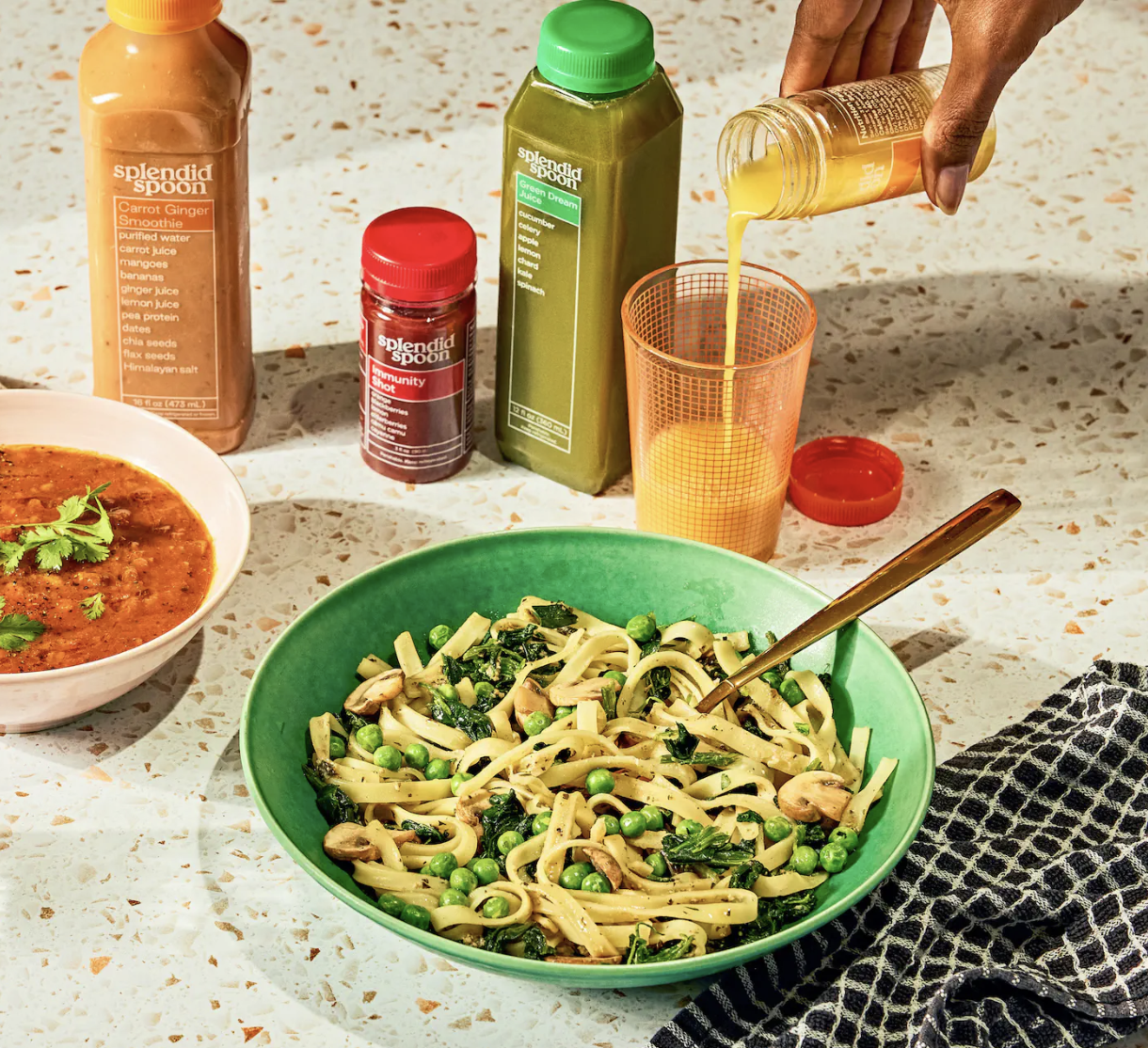 Splendid Spoon started as a vegan soup company, but it has now become one of the best vegan and gluten-free meal delivery services available.
They use simple ingredients to create dishes that are both delicious and healthy, including smoothies, soups, grain bowls, and much more.
When you subscribe to Splendid Spoon, you get to choose from a whopping 65+ animal product-free options each week. This is a huge selection compared to other brands that offer vegan meals.
In addition, all of their ingredients are non-GMO, which may be important to you if you're concerned about the impact of genetically modified organisms on your health and the environment.
With Splendid Spoon, you can order 7, 14, or 21 meals at a time, and they can be tailored to fit your needs and preferences. They also offer an on-demand option that allows you to purchase certain items in bulk.
However, it's worth noting that many of their products come wrapped in plastic packaging, which may not be great for the environment.
One standout feature of this meal delivery service is their blood-sugar-friendly meals, which may be a great option for those with medical needs.
Green Chef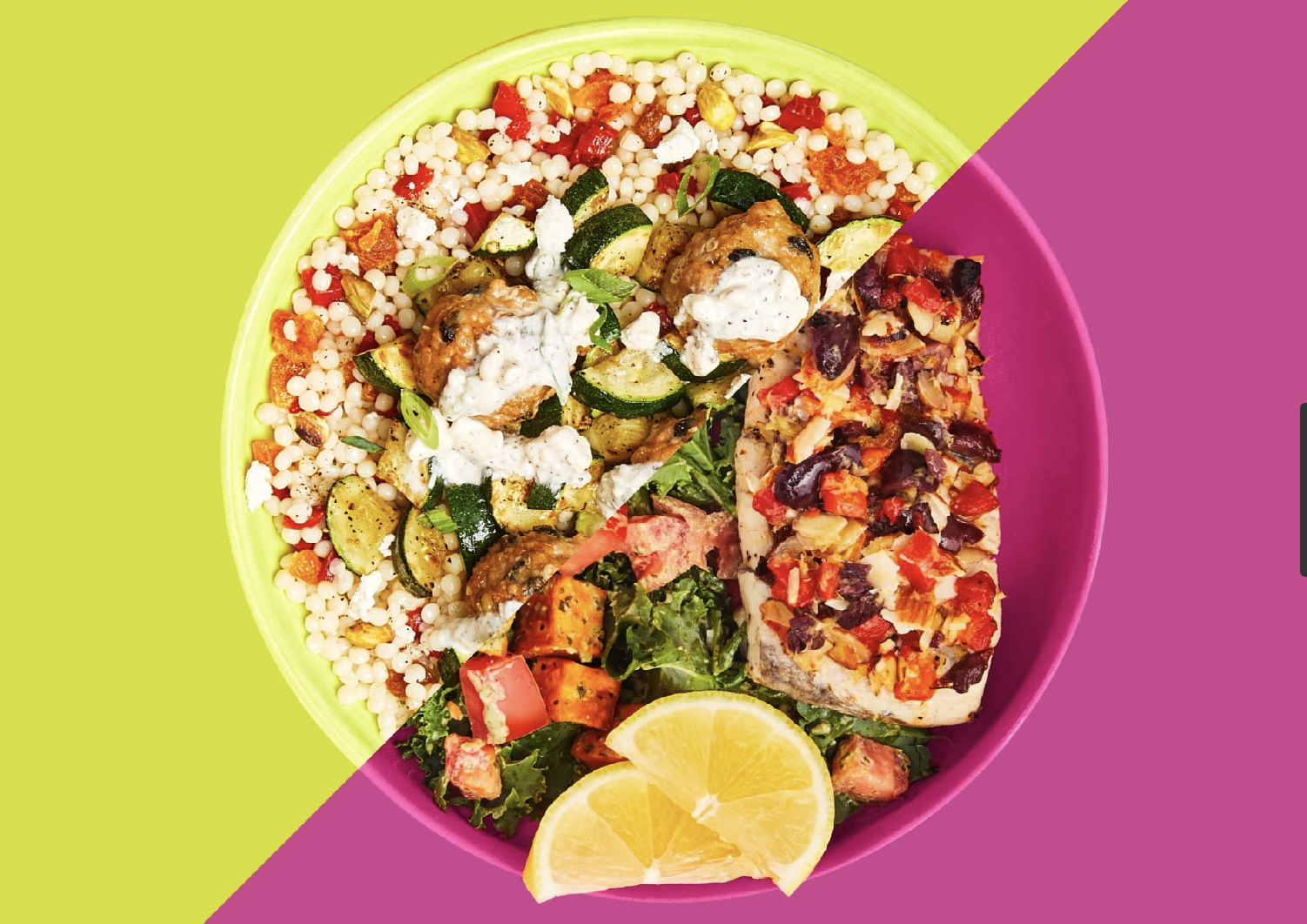 Green Chef has received high praise from both buyers and nutrition experts for their chef-crafted meals that provide great nutrition. Their meal service provides quick and easy-to-prepare dishes that can be ready in 45 minutes or less, making it simple to cook delicious plant-based meals at home. Additionally, the company is certified organic.
Are you interested in trying out vegan meal delivery services? Green Chef is a great option. They offer chef-crafted meals that are easy to prepare and can be ready to eat in 45 minutes or less. Plus, the company is certified organic.
Here's how it works: Start by selecting the vegan option and choose the size of the box based on the number of people you will be serving. You can select three or four meals per week, and pre-measured ingredients for each recipe are delivered weekly. Some of the most popular vegan options among customers include bahārāt-spiced couscous salad and kale and bean-stuffed peppers. These dishes are packed with exciting flavors!
Green Chef is a meal delivery service that stands out for its use of fresh and high-quality ingredients, as well as its variety of creative meal options. Customers appreciate the exceptional quality and taste of the meals, and find them easy to prepare thanks to the pre-measured ingredients. The recipes are innovative and offer delicious flavors, as mentioned by multiple reviewers.
Sprinly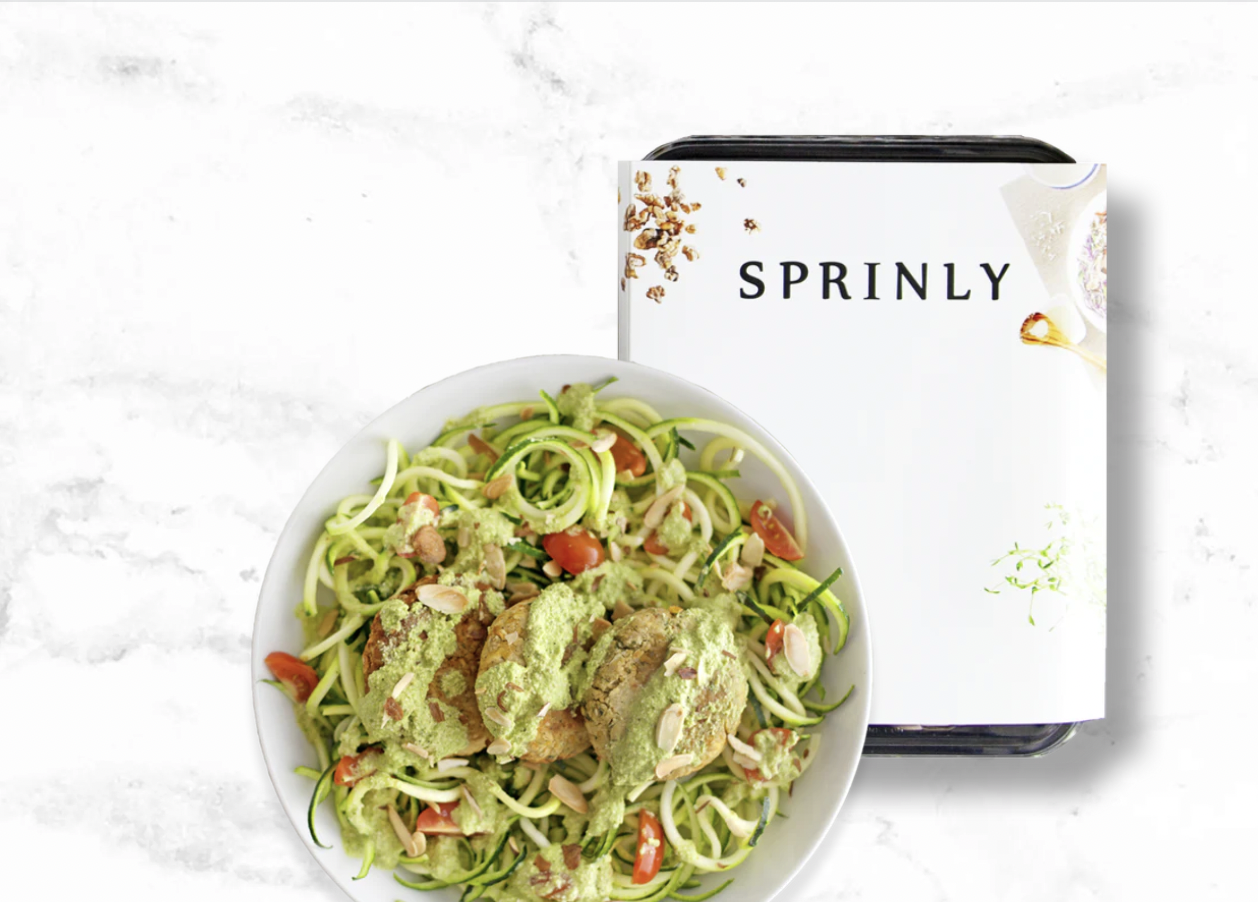 Sprinly is a meal delivery service that specializes in providing vegan meals that are not only delicious but also packed with nutrients. Their meals are also gluten-free, making them safe for those with celiac disease. The company was founded in 2016 by Mary McCarty and Ray Leach, who wanted to make it easier for people to eat healthy while still being convenient and sustainable.
Sprinly offers weekly-changing menu items that are 100% plant-based and gluten-free. The ingredients used are organic, non-GMO, and locally sourced. The packaging used by Sprinly is mostly biodegradable, which makes it a great option for those who are environmentally conscious. The company provides customizable meal plans that include options for soy-free and nut-free diets.
Sprinly offers flexibility in terms of meal plans. Customers can choose to have six, 12, or 19 meals per week or every two weeks, depending on their needs and preferences. It's also possible to skip a week, change plans, or cancel without any fees or penalties.
Oh, and the meals are delivered fresh, never frozen.
Methodology, Inc.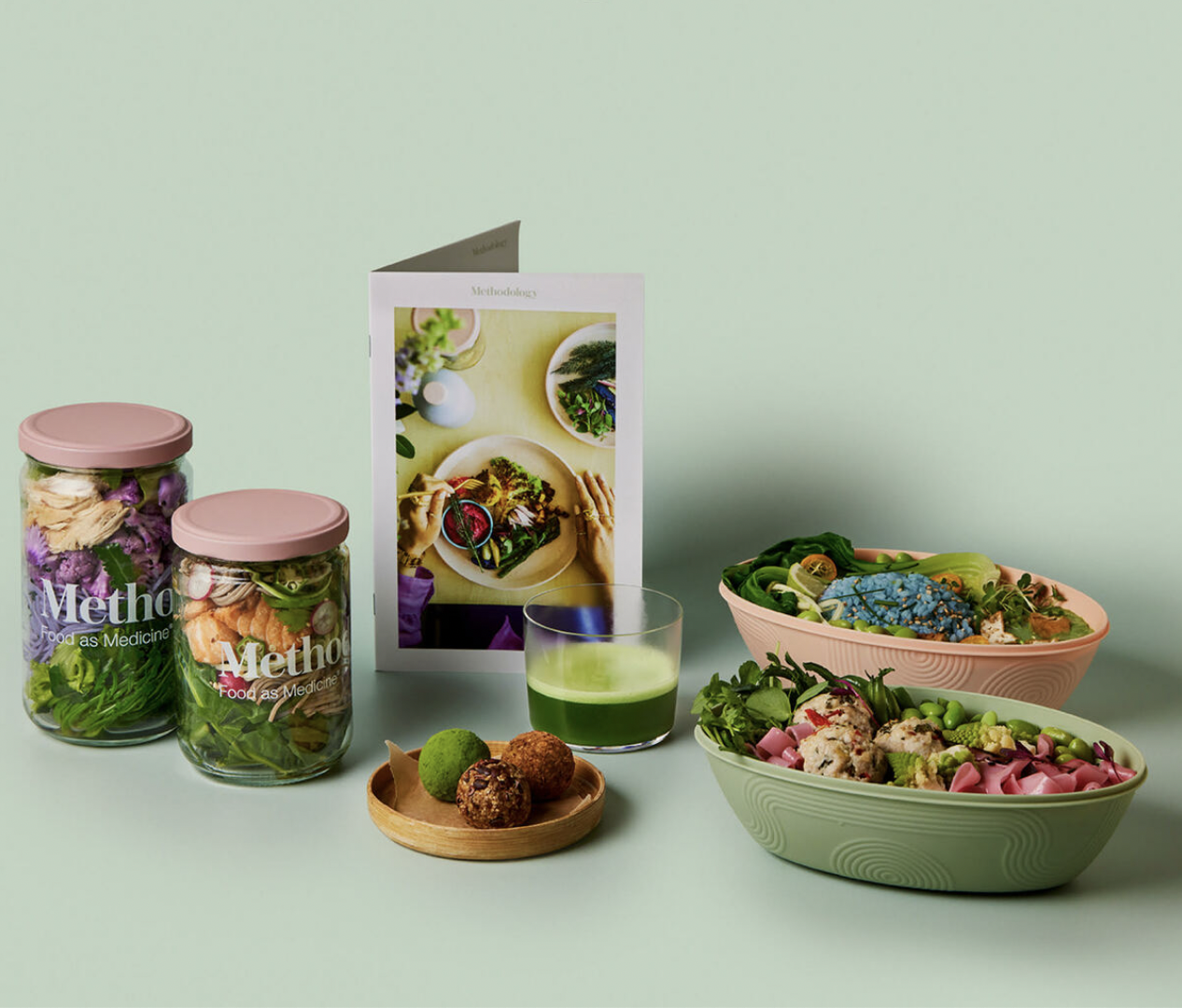 Methodology, Inc. is a company based in Southern California that collaborates with local farmers and suppliers to get the best quality ingredients for its meals.
If you're looking for plant-based options, Methodology, Inc. has got you covered with a massive variety of dishes. While not every meal is 100% vegan, they have plenty of options to choose from. You can select from different plans or add on extras like Lion's Mane Truffle "Cheesy" Sprouted Nuts or Omega-3 Peanut Butter Cup Protein Balls.
Methodology is a company based in Southern California that partners with local farmers and suppliers to get the best ingredients for its meals.
While not all their menu items are vegan, they offer a wide range of options without animal products, and subscribers can choose from various plans. You can also add a la carte items like Lion's Mane Truffle "Cheesy" Sprouted Nuts and Omega-3 Peanut Butter Cup Protein Balls.
In addition to regular meal plans, Methodology also offers specialized subscriptions for athletes, weight loss, or weight gain. They provide detailed nutritional information for each meal, including calorie and macronutrient counts. Meals usually range from 350 to 450 calories per serving, but larger portions are available.
Let's face it, this service is expensive. However, if you have the budget, it's probably the closest thing you can get to having your own personal chef, if not better.
How to Choose the Best Vegan Meal Delivery Service (for You)
If you're interested in trying a vegan meal delivery service, there are a few important things to consider:
Menu variety: When choosing a vegan meal delivery service, it's important to find one that offers a diverse selection of meals to cater to your preferences. This means checking for different cuisines, types of meals such as breakfast, lunch, dinner, snacks, and even groceries. You should also consider any dietary restrictions you may have, such as gluten-free or nut-free options, to ensure that you'll receive meals that you can enjoy.
"I like to see a hearty portion of legumes (the superstars of protein in the plant kingdom), such as beans, lentils, tofu, tempeh or seitan," says Wolfram.
Quality: It's crucial to find a subscription service that includes fresh and high-quality ingredients. If you prioritize it, search for brands that offer organic or non-GMO ingredients.
Delivery schedule and flexibility: Think about how often you want your vegan meals delivered and how many meals you need each week. Some services offer weekly or bi-weekly deliveries, while others may be more flexible and allow you to skip or adjust deliveries as needed.
Customizability:
Make sure to choose a vegan meal delivery service that can cater to your specific dietary requirements and allergies. Some services provide customization options, while others may only have one or two dishes per week that meet your needs.
Consider how often you want to receive deliveries and how many meals you need per week. Some services offer weekly or bi-weekly deliveries, while others may have the option to skip weeks or change delivery dates.
Look for a meal delivery service that offers a wide variety of options, including different types of meals (breakfast, lunch, dinner, and snacks), cuisines, and dietary restrictions (such as gluten-free and nut-free).
If you prioritize high-quality ingredients, seek out a service that guarantees fresh and organic or non-GMO ingredients.
Value: Make sure to choose a subscription service that suits your budget and provides good value for money. Some services offer more meals than others, and some may provide larger portions, so consider all factors when comparing prices.
"I tend to steer clear of 'low-calorie' meals and advise my clients to do the same," says Wolfram. "This may be code for low-fat or small portions, both of which are unlikely to help you feel satisfied and full."
Look for meal delivery services that offer promotional deals and discounts, as many of them tend to do.
Packaging and sustainability:  Consider the packaging of the meals and if the company uses eco-friendly or sustainable options. Brands like Methodology offer glass packaging that can be returned and reused. If sustainability is important to you, consider brands that source ingredients locally to reduce the carbon footprint of your meals.
Customer reviews: Reading customer reviews and ratings can be a useful way to gauge the quality of a meal delivery service. You can get an idea of how satisfied other customers have been with their meals, the level of customer service they received, and their overall experience with the service.